Dr. Laura Ristori, Post-Doctoral Fellow and Research Coordinator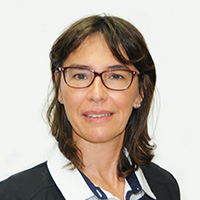 Born in 1968, Laura Ristori graduated in 1992 from the University of Florence Law School with 110/110 cum Laude and immediately joined as young associate a major Florentine law firm. In 1995 she gained her LL.M. at Columbia Law School. In the same year she passed the Italian Bar Exam and started working as a business lawyer in Florence. In 2002, together with three other lawyers, she founded her own law firm in Florence and, as a partner, has worked there since then. In 2006 she completed her Ph.D. in European Competition Law.
Ristori is also a professional mediator for civil and commercial disputes. Since 2010 she has been working for the Florence Bar Mediation Institution (Organismo di Conciliazione di Firenze), and in that quality she has mediated hundreds of civil and commercial disputes. She has been trained in mediation and negotiation at the Program on Negotiation (PON) at Harvard Law School, and at the University of Florence Law School, and she has attended several other workshops and seminars in mediation and negotiation in the US, Mexico, France, Slovenia and Italy. She has been trained in transformative mediation by Joseph Folger; in mediation through understanding by Gary Friedman and Jack Himmelstein, and on dispute resolution system design by Kenneth Cloke.
Recently, Ristori became interested in peace building and in 2014 she trained as a mediator in violent conflict and in war to peace transition contexts at the USIP (United States Institute for Peace) in Washington D.C.
Ristori is herself a trainer in mediation and negotiation techniques for the Laboratorio Unaltromodo (LUAM) at the University of Florence Law School, for the Lider Lab at the Istituto di Studi Superiori Sant'Anna in Pisa and for the Florence BAR Foundation for continuing education of lawyers. For these institutions she has trained since 2007 several lawyers and other professionals in mediation and negotiation techniques. Occasionally, she teaches mediation and negotiation for the students of the University of Florence Law School.
She has written articles on competition law and chapters for four books on mediation. In 2016 she co-authored with Paola Lucarelli a book on long term commercial contracts for Wolters-Kluwers publishing Company.
Born in Florence (Italy) on 5 January 1968;
Italian Nationality;
Languages
Italian, mother tongue;
English, fluent;
French, good.
Academics and Education
2016: International Visiting Sholar at Columbia Law School
2016: research fellow for the ERC-JCR (Judicial Conflict Resolution) - European Council Project for mapping the Judicial Settlement Phenomenon – co-ordinated by Prof. Michal Alberstein of Bar-Ilan University – Tel Aviv - Israel
2016: April-July – Scientific Director and Trainer in the Program for teaching Negotiation Techniques to Lawyers for the Foundation for the Continuing Legal Education of Lawyer of the Florence Bar Association
2016: (April 14th – 16th) Advanced Mediation Course: The Dance of the Opposites: Inquiry into Mediation, Dialogue and Conflict Resolution Systems with K. Cloke, organized by UIA (Union Internationale des Avocats) and the University of Florence
2015: (June 8th-13th) Advanced Mediation: Mediating Complex Disputes with D. Hoffman, L. Susskind and at PON at Harvard Law School – Cambridge USA
2015: (February 8th -11th) Paris UIA Training course Mediating the melodrama of conflict - Advanced conflict coaching skills for mediators – Prof. Nadja Alexander
2014: (May 12th-23rd) USIP (United States Institute for Peace) - Training in:
- "Mediating Violent Conflict";
-"Governance and Democratic Practices in War to Peace Transitions"
2013, 2014,
2015 and 2016: Annual ICC International Commercial Mediation Competition as Coach of the University of Florence team.
2013: (April) Training on "The Crossroads of Conflict" by K. Cloke – UIA (Union Internationale des Avocats) and University of Florence
2013-2015: scientific coordinator "Laboratorio Unaltromodo" a think tank for Conflict Resolution trough Negotiation and Mediation for enterprises and complex organisations"- University of Florence
2012: (September 12th-14th) Training in "Mediation through Understanding" by G. Friedman e J. Himmelstein organised in Florence by UIA – Union Internationale des Avocats
2012: (March 5th- 7th) University of Florence Law School –Training in Tranformative Mediation Techniques by J. P. Folger.
2011: (November 24th-26th) Paris – UIA - Mediation: Advanced Training Course;
2011- 2013: IUF – Innovative Start-Up Enterprises Incubator - Legal support to spin-offs from the University of Florence.
2011: (January 29th – February 4th) Mar de Jade – Mexico, "Self-Reflection in Action for Conflict Professionals" - Intensive Training for Mediators from the Center for Understanding in Conflict;
From 2010: Trainer in Mediation and Negotiation at Scuola Superiore di Studi Universitari e perfezionamento Sant'Anna di Pisa; Università di Firenze.
2010: (May 27th – 29th) CMAP (Centre de la Mediation et de l'Arbitrage de Paris): "Dealing with Conflicts – La Mediation inter-interprises" by Gary Friedman.
2009: (Sept-Dec) New York University in Florence, Adjunct Faculty Member for the year 2009-2010, Fall Semester for the Leonard Stern Business School International Students Program, teaching "Law, Business and Society".
2009: (February-May) Affiliate lecturer for the Academic year 2008-2009 at Marist College faculty - Italian location - teaching "Principles of Microeconomics".
2007-2008: (October-April) (CEDIC) – Polo Universitario di Prato – Course of High Education in Chinese Economy, Law and Culture for the Internationalisation of Italian enterprises in China
2007: (October 22nd-26th) Harvard Law School- USA: PON – Program on Negotiation – "Mediation Workshop"
2007-2009: (26th May- 14th June) mediation training course in corporate law disputes - University of Florence;
2006: (11-14 September) Paris, International Chamber of Commerce: "Seminar on International Contracts – Negotiating, Drafting, Dispute Resolution in Different Cultural Settings"
2006: (12-23rd June) Harvard Law School - USA: PON at Harvard Law School, training in
- "Basic Negotiation: Creating Value in Deals and Disputes", and
- "Advanced Negotiation: Difficult Conversations"
2006: completed PhD in European Competition Law
2000: (27th March – 31st March) participant to "Law and Economics Courses for doctoral students and Faculty Members 2000" Studienzentrum Gerzensee - Switzerland
1998-1999: Visiting student at the European University Institute of Florence research supervisor Prof. G. Amato – Research in Competition Law
1994-1995: Master in Laws (LLM), Columbia University School of Law - NY- (NY) Usa.
1992: Degree in Law ("Laurea") with 110/110 cum laude.
Professional activity
Since 2008: Professional mediator for OCF – Organismo di Conciliazione di Firenze and for the Conciliatore Bancario (for banking law)
Since 1995: Partner Studio Legale Associato Stanghellini, Scarpelli, Rubino, Ristori
Law practice in the field of Corporate, Contract and Commercial Trade Law, Bankruptcy Law
Publications (titles translated)
Book on "Long-Term Commercial Contracts - Managing change"; co-authored with P. Lucarelli for Wolter Kluwers publishing Company.
Practicing Conflict and Expanding the Culture of Positive Confrontation through Mediation Contrib. to Mediazione e progresso, P. Lucarelli e G. Conte Eds, 2013 - UTET.
Italian Translation of "Challenging Conflict: Mediation Through Understanding" by G. Friedman and J. Himmelstein – M. Faggiano ed. 2012, Franco Angeli.
Mediation in Civil and Commercial Disputes, in La mediazione civile, Prof.C. Besso Marcheis ed., Giappichelli, 2010.
Mandatory and Court Annexed Mediation according to D.lgs. 28/2010, in La nuova disciplina della mediazione delle controversie civili e commerciali, A. Bandini e N. Soldati Eds.Giuffrè, 2010.
"ADR e Trust", contribution to "Il trustee nella gestione dei patrimoni. Responsabilità e soluzione dei conflitti." Prof. A. Barba ed. Giappichelli, 2009.
The Legal Limits to Economidc Freedom: Anatomy of Competition Law, in Concorrenza e Mercato, 2007, Giuffrè ed.
And several other minor works