Research
For a summary of the Research Project findings and publications see here.
Overview

The ERC-supported research on Judicial Conflict Resolution (JCR) is a five-year long comparative research project of judicial dispute resolution practices in Israel, England and Italy. The research is inspired by the phenomenon of the "vanishing trial," motivated by two working hypotheses: first, that many case dispositions that occur without a contested judgment are the result of active dispute resolution activities conducted by the presiding judge(s), and second, that these JCR activities are not necessarily reflected in the formal case record.

Using a mixed-methods research approach, the project aims to capture and analyze JCR practices, reflect on the changing roles of judges, develop a descriptive typology of settlement inducing roles that judges play in court hearings and a current jurisprudence of judicial conflict resolution. Ultimately, the project is intended to make policy recommendations for improved court process designs and procedural rules, ethical conduct rules and regulation of judicial work of settlement, as well as develop dialogue and training schemes with judges and court administrators.
Research Objectives:
The overarching goal of the project is to understand the role of judges and courts in promoting settlement: describing and conceptualizing judicial activities from a conflict resolution perspective. In accomplishing this objective, the project has theoretical, empirical and prescriptive policy components: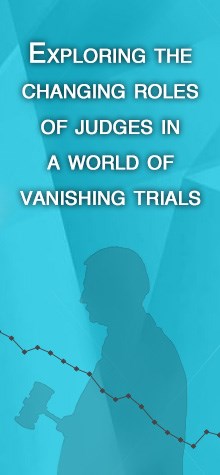 Theoretical Objective
Develop a Jurisprudence of judicial conflict resolution and a current conceptualization of the role of judges.
Empirical Objective:
Capture settlement-promoting judicial practices as reflected in regulation, system and process design, court-records and courtrooms:
Describe and analyze the regulatory framework in which judges operate to promote settlement through examining legislation, court regulation and related policies.
Describe and analyze court dockets with regard to: a) the distribution and relationship between case types, legal procedure and modes of disposition; and b) docket management and process-design policies.
Describe and analyze new court procedures and experimental practices related to settlement activities.
Describe, analyze and conceptualize JCR practices as observed in the courtroom and reported by relevant stakeholders.
Describe and analyze comparative aspects of JCR in the three countries of research: Israel, England and Italy.
Prescriptive and Policy Objective
Improve courts' institutional and professional operation with regard to JCR activities:
Make recommendations for—and assist the implementation of—appropriate court procedures and system design, legislation and regulation.
Develop and conduct JCR related judicial training
Disseminate and implement knowledge about JCR.
For additional detailed information about the research activities and publications by the JCR Colaboratory please see: